What makes a BEST SECURITY home a safer home?
HKC manufacture both wired and wireless solutions to meet the
requirements of residential, business and commercial sectors.
BEST SECURITY specialise in the installation and commissioning
of HKC products and all our engineers have certificates of
training obtained from HKC.
The HKC App and SecureComm Cloud provide a plug and play
solution that allows Best Security to offer their customers
complete control of their alarm from any location.
The App gives peace of mind to our clients.
Messages and alerts are audibly notified as well as being
displayed on the control panel keypad.
The benefits of HKC's wireless devices
Easy Installation
Wireless devices are simple and quick to install because they do not require an engineer to wire to the end devices. These devices can be surface mounted and set up in a matter of minutes. Connected to a main control panel via radio signals, wireless devices can be placed anywhere within a property without needing to drill holes to install and hide unsightly wires. Not only are they easy to install, but wireless systems are also easier to add to, making them highly popular with installers.
A Smart Choice For Home & Business Owners
Wireless security systems are particularly popular with both home and business owners. HKC wireless systems are easy to install and because there are no cables to install the installation is hassle and fuss free taking less time than a traditional wired system.
Superior Battery Life
Many wireless security systems suffer from battery issues which result in dissatisfied end-users, multiple installer callbacks, and lost profit margins. The last thing customers want is for their wireless security devices to become problematic due to battery issues. To combat this, our devices are designed with excellent battery management to ensure that batteries last much longer than the industry average.
Communication
Systems can be professionally monitored and can also send messages to smartphones. The HKC App (Android & Apple) allows control of the system from remote locations via the SecureComm Cloud and allows up to date status of the system including set / unset functionality, receipt of alerts, images and alarms via text and audibly notifications. CCTV systems can also be integrated to the App to receive live streams in the event of an activation.
User Alerts
Utilising the App, alarm owners can be aware of such things as the status of the system, who is at home, if a child has not come home at a predetermined time, or what detector has activated. Using the RF PIR Camera images can be sent or requested by an authorised user to their smart phone.
This is an ideal form of detection and in most cases the Shock sensor devices will alert the system control panel before the intruder will have the opportunity to open the protected door or window.
Life Safety
A full range of life safety devices are available. Smoke, Heat and Carbon Monoxide detectors can be easily installed in key locations. In the event of detection the System will annunciate the alarm using on board voice library and immediately sound ALL life safety devices installed. This is particularly important with poisonous gases that cannot be detected by odour. The Carbon Monoxide detector will immediately activate and the control panel will audibly warn of the presence of CO gases and request that the premises be vacated. All such messages can be transmitted off site by the on-board communicator.
Portable Duress Device
The RF Fob allows the user to set/unset the system from outside the premises. The device can be configured to operate with a secure pin code to prevent unauthorized use. The FOB has an on board duress button which will activate the system when pressed.
Intrusion Devices
HKC panels communicate with a range of intrusion devices that detect attempted or actual intrusion. Devices typically fall into two categories – perimeter and trap. Perimeter devices such as a Contact or Contact Sensor detect an attempted forced entry on a door or window while a Motion Sensor will detect the presence of an intruder internally and if a camera motion sensor is fitted images can be transmitted or requested.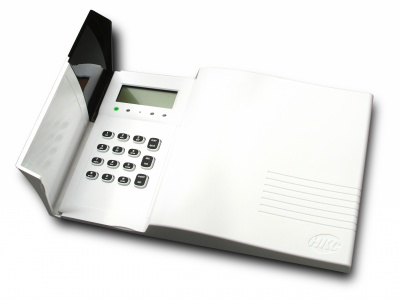 HKC Quantum 70 Wireless Control Panel
The Quantum is a fully integrated, wireless control panel using HKC's SecureWave, twoway technology. The on-board horizontal and vertical antennas mean that all signal paths will demonstrate exceptional end-device range. With an integrated keypad, siren and WiFi module, installation will be very quick and easy.
Also, the aesthetics and elegant design lines mean that it can be mounted anywhere in the premises.
HKC SW-10270 Hybrid Control Panels
Two-way wireless control panels with additional wired zones giving you total flexibility without compromise. The panels can communicate with a complete suite of devices including wireless PIRs, Dual Tech's, Inertia Sensors, Magnetic Contacts, Keypads, Panic Buttons, Key-fobs, Smoke Detectors, PIR-Cameras, Internal & External Sirens and more besides.
With both horizontal and vertical antennas you will be pleasantly surprised by its excellent RF range